Lenox 68016 Synthetic Lubricant 275 gal
Purchase
Product Code: LX68016
Quantity In Basket: None
Manufacturer: Lenox

Have a question?
Flat Rate Shipping Fee $9.95 per order
Condition: new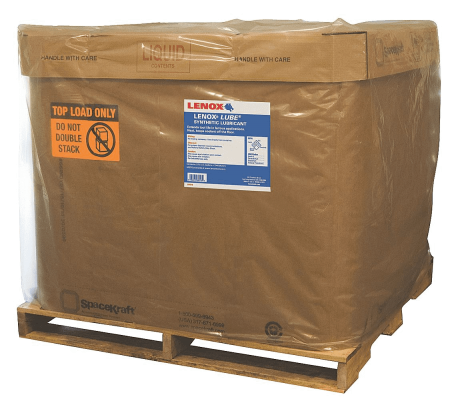 Description
LENOX LUBE® BAND SAW LUBRICANT
Clean, Synthetic Lubricant for Spray Applications
Advanced formula enables superior cutting performance when Minimum Quantity Lubrication (MQL) is required

EXTENDS TOOL LIFE
Extreme pressure lubricant reduces frictional heat,
prevents chip welding, and delivers an excellent workpiece finish

CLEAN AND ENVIRONMENTALLY FRIENDLY
Synthetic, water-based formulation is safe for the shop and operator

REDUCES COSTS
No disposal costs and uses only ounces per day

OPTIMUM PERFORMANCE ON FERROUS METALS
Use with our MICRONIZER® systems to lubricate carbon/alloy steels and stainless steels. Works best on pipe and thin-walled tubing
SURFACES CAN BE WELDED AND PAINTED OVER
Specifications
CONTAINER SIZE
PRODUCT NO
GALLON
LITER
CONTAINERS PER CASE
NFPA CODE SPECS
68014
1
3.8
4
HMIS/WHMIS
HEALTH INDEX - 0
FLAMMABILITY - 0
REACTIVITY - 0
PERSONAL PROTECTION - A

HEALTH

FIRE

REAcTIVITY

SPECIAL HAZARD

68018
5
18.9
—
68017
55
208.2 drum
—
68016
275
1,040.9 tote
—
Use this product as it comes from the container—do not mix with water.